Everyone says the GIMP's UI sucks. I don't really see it, except that the toolboxes are huge and get in the way a bit, but overall, no worse than Photoshop. Anyway, they are trying to remedy that situation. Of course, they can't spend a bunch of money on Human Computer Interaction testing, so they're doing the next best thing. They want users to show their idea of the perfect UI. Either by modifying the current GIMP UI with a screenshot and more GIMP or by doodling on paper and scanning it, if you want the GIMP UI to change in a certain way, tell them! There is one feature of Paint Shop Pro that I absolutely love.
Here it is: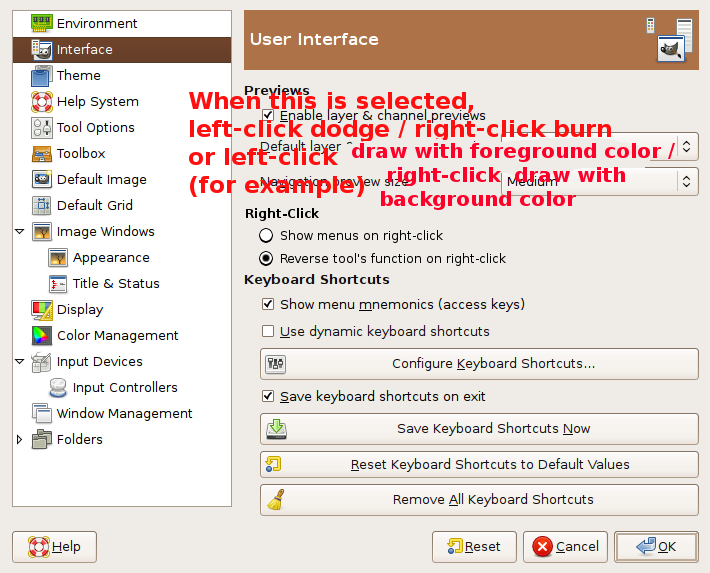 As it says, if you right-click the function is reversed. I consider it annoying that I have to move from the "canvas" to the toolbox options to switch function of some tools.
Examples of switchable things:
Foreground or background color on drawing tools
Erase / unerase (well, right-click once and the erasing is undone)
Dodge / burn
Add to selection / Remove from selection
I see a bunch of really nice ideas on there. I especially like the full-screen canvas ones with the tools along the edges (odd, since I hate how the Mac's universal menu bar is so far away all the time hmm maybe because things are different when you're in full-screen mode) and the open images as little thumbnails or tabs off to the side. Head on over to the GIMP UI Brainstorm to check out the ideas. I'm hoping there's some sort of poll for people to say which ideas they like best, though I suppose the fact that there's something like 20 saying "only one window" is acting as a hint to them.